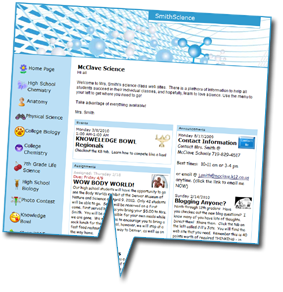 Congratulations to our Quarterly Contest winner for the first quarter of 2010, Jill Smith at McClave School District in McClave, Colorado.
Jill has gone above and beyond in making her site a wonderful resource for her students and their parents. It reflects the informative content, attractive appearance, and good use of layout that we look for in our winning sites.
Jill loves her site and has a number of wonderful things to say, such as "this Website has probably been my biggest positive change to my curriculum in the 17 years I have been teaching. You couldn't go wrong to add this to your list of tools that you use to inspire your students."
Again, congratulations Jill! Keep up the good work!
Featured Site
Each quarter MyTeacherSite.org selects a teacher's site to feature for excellence. Quarterly winners receive $100 and a cool T-shirt! Selections are based on: informative content, appearance, and good use of layout. To submit a MyTeacherSite Web site for consideration, email us the link to: Quarterly Award Submission